The BESTANGLER story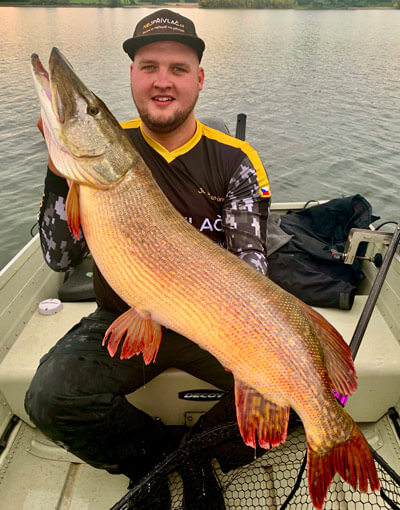 Jan Šafránek
store owner
When I started with predator fishing, I had only a small box with a few lures, a cheap rod and a reel. All the equipment fit in my spinning vest. But the number of different lures gradually increased ... In a moment there were so many of them that it was not possible to walk normally with the vest and I had to buy a shoulder bag. The next year it didn't even fit in the bag, so I had to buy twice as big. The equipment got busy - the first reel didn't last a year, the second lasted about a year and a half. I wanted the third reel significantly lighter than the previous one. Gradually, over the course of several years, I tried lures and equipment from most spinning brands on market.
I've finally started to figure out which equipment and lures work and I can rely on them. Keitech baits suddenly began to predominate in my soft bait boxes. The last blow for all other soft baits was one spring trip to Sweden. There were a lot of fish in the bay, so we tested different types and brands of soft baits. Almost every soft bait could catch a fish, but every time I tried Keitech, I got a bite immediately. Instead of one fish in fifteen minutes, I caught three to four. That's how it went all day, even the completely bitten and torn Easy Shiner worked better than anything from the seven different brands of soft baits I had with me. Since then, the other soft baits have often just lay in the box as an unnecessary burden. Over time, I worked my way up to a state where I got rid of everything else and started fishing only with Keitech soft baits.
In a similar way, over time I came to the extremely sensitive, light and strong Hearty Rise rods, Shimano reels, DUO and Jackal hard baits, Sawamura and O.S.P soft baits, DECOY hooks and accessories, Varivas and Momoi braided lines, Meiho boxes ...
Based on the experience gained, I decided to establish this e-shop, where you can find only the best quality predator fishing equipment and lures personally verified by me, members of the BESTANGLER team and my close friends. Most of the best products come from Japanese brands with their own production in Japan, so naturally these brands have also become our specialty.
I wish you a lot of beautiful fishing experiences with our equipment.
PS.: Are you interested in going fishing with me? Several times a year I also offer my services as a fishing guide in the Netherlands.