We ship to 225 countries worldwide!
We offer several delivery options for most countries in the EU.
To the rest of the world we deliver using fast and secure DHL Express.
Most orders are shipped within 24 hours of receipt!
Orders are packed and shipped every business day. Orders received on business days before 10:00 (CET) are usually shipped the same day!
For all information on prices, delivery and payment options, please select your country:
Prices, VAT and customs duty
All prices for orders to United States include 0% VAT (Value Added Tax) as the goods are exported outside the EU.
However, you may have to pay customs duty or import tax to your country.
Duty and taxes are usually between 5% and 25% of the order value, rates vary from country to country. Any customs duties or taxes will be collected by the carrier upon receipt of the shipment.
Delivery methods to United States

DHL ExpressDelivery: 2 business days
Price
37.61 $
FREE for orders over 644.76 $
Fast and secure worldwide shipping with DHL Express.
Payment options
All payment methods are paid in advance - we don't dispatch an order until it is fully paid! Cash on delivery is available only for Economy shipping for some EU countries.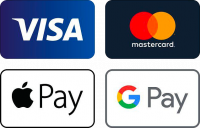 Online payment over Stripe
FREE
WE RECOMMEND using this payment method - the payment process is very easy, fast and secure.
Stripe supports all common payment cards - MasterCard, VISA, American Express, Discover, Diner's Club and JCB. You can also pay via Apple Pay, Google Pay or iDEAL. For Apple Pay, you must make a payment in Safari on your iOS or MacOS device.

Online payment over PayPal
FREE
You can pay by balance on PayPal or with all common payment cards - VISA, MasterCard, American Express, Discover, JCB, Diners Club and EnRoute.
We charge a 3% surcharge for using the PayPal service, due to very high payment fees. We recommend using online payment via Stripe - it's very easy, fast and secure. They also charge low payment fees, so you don't have to pay anything extra. :)