Fishing guide in the Netherlands
Something about me
I've been fishing since I was a kid, but I only started spinning full-time in 2012. Since then, I've had the opportunity to try all possible brands of spinning rods, reels and lures, and gradually progressed to better and better equipment until I came to the opening own fishing shop www.bestangler.com. I also attend predator fishing competitions, I started with shore leagues in UL spinning and gradually switched to largest boat fishing competitions. At the moment, my fishing partner Jiri and I only compete in the most prestigious competitions in Europe. I also regularly travel abroad to fish - I have already been to Sweden 15 times, several times to Norway, I also fished in Sri Lanka, the Canary Islands, Slovenia and about 8 other countries. In recent years I have liked the Netherlands the most.
My experience with the Netherlands
I fished in the Netherlands for the first time in 2016, since then I have been going there every year. We regularly take part here in the biggest European spinning competition from boats - the Predator Tour. With up to 150 two-man crews competing on the Predator Tour, in 2021 we managed to place an excellent 19th out of all teams. :) In 2022 I fished in the Netherlands for almost 2 months. I also have experience fishing at sea where the conditions are great for catching seabass for part of the year. I have most of my personal fishing records from the Netherlands - pike 117 cm, several others 1m+, dozens of pike over 90 cm, perch 51.5 cm, 3 perch over 50 cm and dozens of fish over 45 cm, lots of nice zanders, but I have a personal record of 92 cm is still from the Czech Republic.
South Holland
South Holland is home to the Rhine Delta, one of the best waters for predator fishing in the Netherlands, and I dare say Europe. When fishing, we mostly focus on the Hollands Diep, Haringvliet and Volkerak dams. The water in the delta is incredibly nutritious, schools of fish can be found almost everywhere you stop. The fish are protected by nature reserves along the shores, which are also home to a large number of waterfowl. And thanks to the mentality of local fishermen, who release most of the fish, the predators are growing to record sizes here. Pike over 120 cm, perch over 50 cm and zander up to 100 cm are caught here. Thanks to the proximity of the sea, you can sometimes catch sea fish at the dams. If the weather is not very bad, it is usually not a problem to catch pike over 100 cm, perch over 45 cm, or zander over 70 cm.
The total length of the Hollands Diep and Haringvliet dams is around 45 km. The dams are up to 4 kilometers wide in places and are also a busy thoroughfare for shipping. Cargo ships over 200 meters in length usually pass by you while fishing. Thanks to the proximity to the sea, the weather here is also very unpredictable, so it sometimes happens that you suddenly have meter-long waves from no wind within 10 minutes. With long crossings and frequent winds, a big, fast boat like mine is an essential part of success and safety here.
Boat and equipment
I use a Vizion 500 boat with a Yamaha V-MAX 115 HP engine that goes up to 70 km/h. The boat is equipped with high-end Garmin electronics - three 10" Echomap Ultra sonars, a Panoptix LiveScope live sounder and a Garmin Force bow motor. I am also the Navionics brand ambassador for the Czech Republic, so I have top Navionics charts in all sonars, which make navigation and finding fishing spots very easy. There is enough space on the boat for comfortable fishing and sailing for up to 5 fishermen at the same time.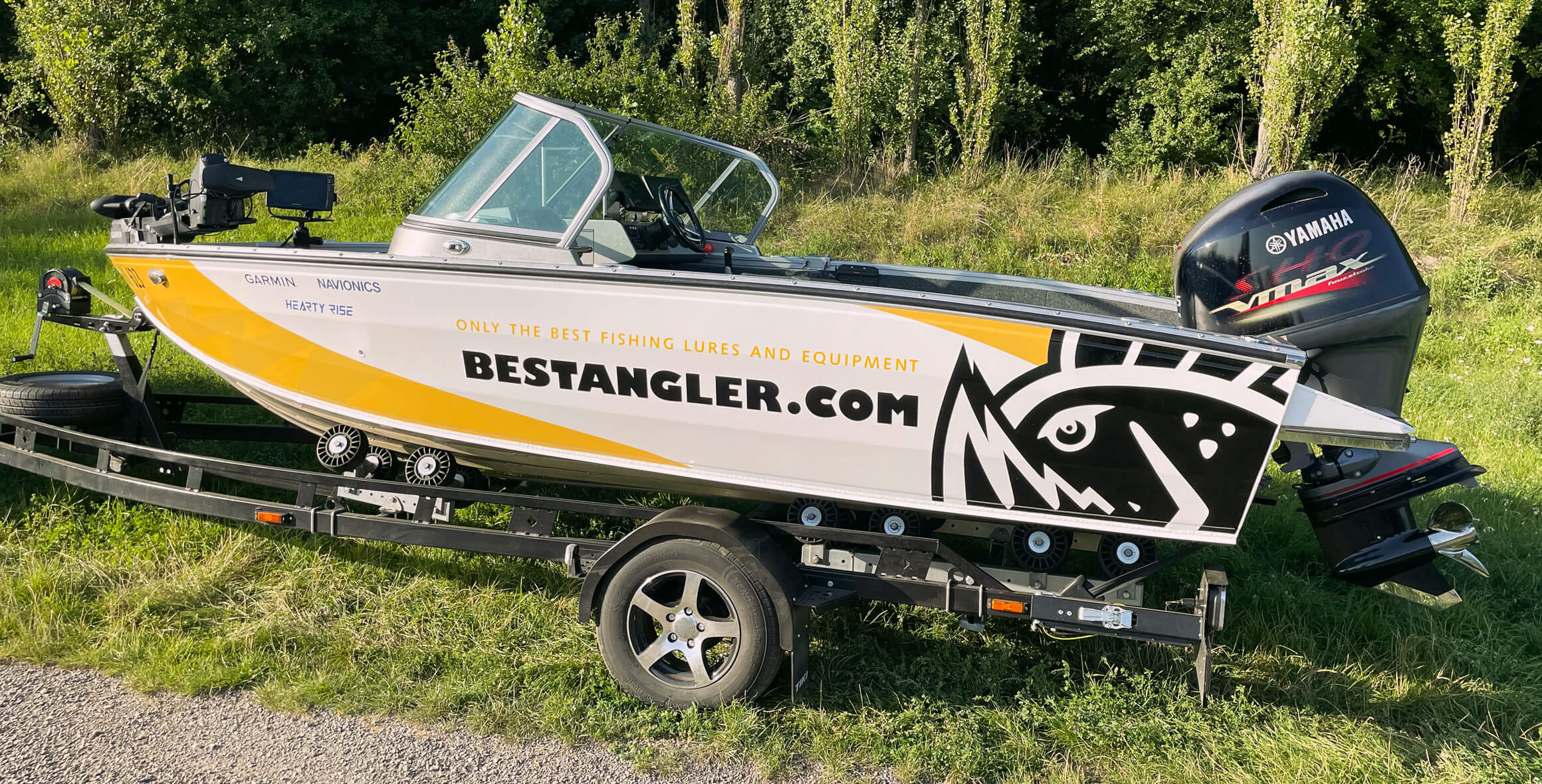 Accommodations
The most comfortable accommodation is in one of the holiday resorts right next to Hollands Diep / Haringvliet. You are accommodated in fully furnished houses for 4 to 6 fishermen. The price depends on the selected date, type and size of the house (they offer basic, with a view of the water, luxury, ...). The price of basic houses for 4 fishermen is usually 70 - 150 € per night. Accommodation can be booked cheaper if you make the reservation further in advance. I will be happy to help you with the accommodation reservation.
If you are looking for cheaper accommodation and you have your own motorhome, caravan, tent,... I recommend one of the campsites around the dams where we will be fishing. The price of the campsite for a camper van and all fishermen is usually 15 - 30 € per night.
Fishing permits
The annual Dutch permit costs 45 € and can be ordered online. After ordering, you will immediately receive a temporary permit in your e-mail, which you can use for a month. After about a week, a physical credit card-sized permit will arrive in the mail. I will be happy to help you with ordering a permit.
Price for my guiding services
The price includes:
me with the boat for 10 hours / day
25 liters of gasoline for the boat / day
ship and crew insurance
used small consumables (carabiners, fluorocarbons,...)
1 day of fishing for 2 anglers = 450 €
1 day of fishing for 3 anglers = 550 €
1 day of fishing for 4 anglers = 650 €
The minimum reservation period is 5 days. On selected dates, when I will be in the Netherlands for a longer period of time, it is also possible to book for fewer days.
Available dates in 2023
Available dates are indicative and can always be negotiated. It also depends on what kind of fish you want to catch, because the best time for each species is slightly different.
end of March
27.5. - 2.6.2023
26.8. - 8.9.
9.9. - 11.9. - reservation
October
If you are interested, please contact me: Jan Šafránek - phone +420 721 325 056, or email jan@bestangler.com